Summer Reading Program 2023
Summer Reading & Prizes:
Your reading progress will be posted on our bulletin board so you can compare with other readers in Earlham and encourage everyone to meet their goals this summer!
· Adults will get one ticket per book checked out, with a max of 8 entries towards a GRAND PRIZE.
· Grand prizes are listed in the library and shown in the display case throughout the summer. The categories will be Ages 0-2, 2-4, 4-8, 9-12, 13-17, and Adult
Reading & Prizes:
· Each Circle = 20 minutes read. Each Reading Ticket= 100 minutes or 1 week (5 days) of reading. If you read enough to complete 8 weeks worth of reading, you will be entered to win a GRAND PRIZE that will be given away August 12th at the End-of-Summer Party! Weekly Prizes include: Week 1) You Pick Week 2) You Pick Week 3) Ice Cream Cone at Beans & Beignets Week 4) Pop/Slushie at Casey's Week 5) Iowa Cubs Baseball Tickets Week 6) Frisbee Flyer Week 7) Blank Park Zoo Pass Week 8) A Book (Prizes sponsored by Friends of EPL)
· *You Pick* means picking your own prize out of a tub of various small prizes such as squishies, pull-back cars, puzzles, flyers, etc.
· Teens may pick an alternate prize from limited options available for age-appropriate substitutions.
Major Programs & Events:
Check the Calendar for Friday Programs! We have fun outside presenters coming in such as the Blank Park Zoo, ISU Extension, Art teachers, Creative writing classes, etc!
End-of-Summer Party—August 12th Sundaes, water fun, and drawings for the Grand Prizes! You don't need to be present to win, but choosing prizes will be first come, first serve per age group and if you're not present, you may not get your first pick!
Check the Calendar for More Events!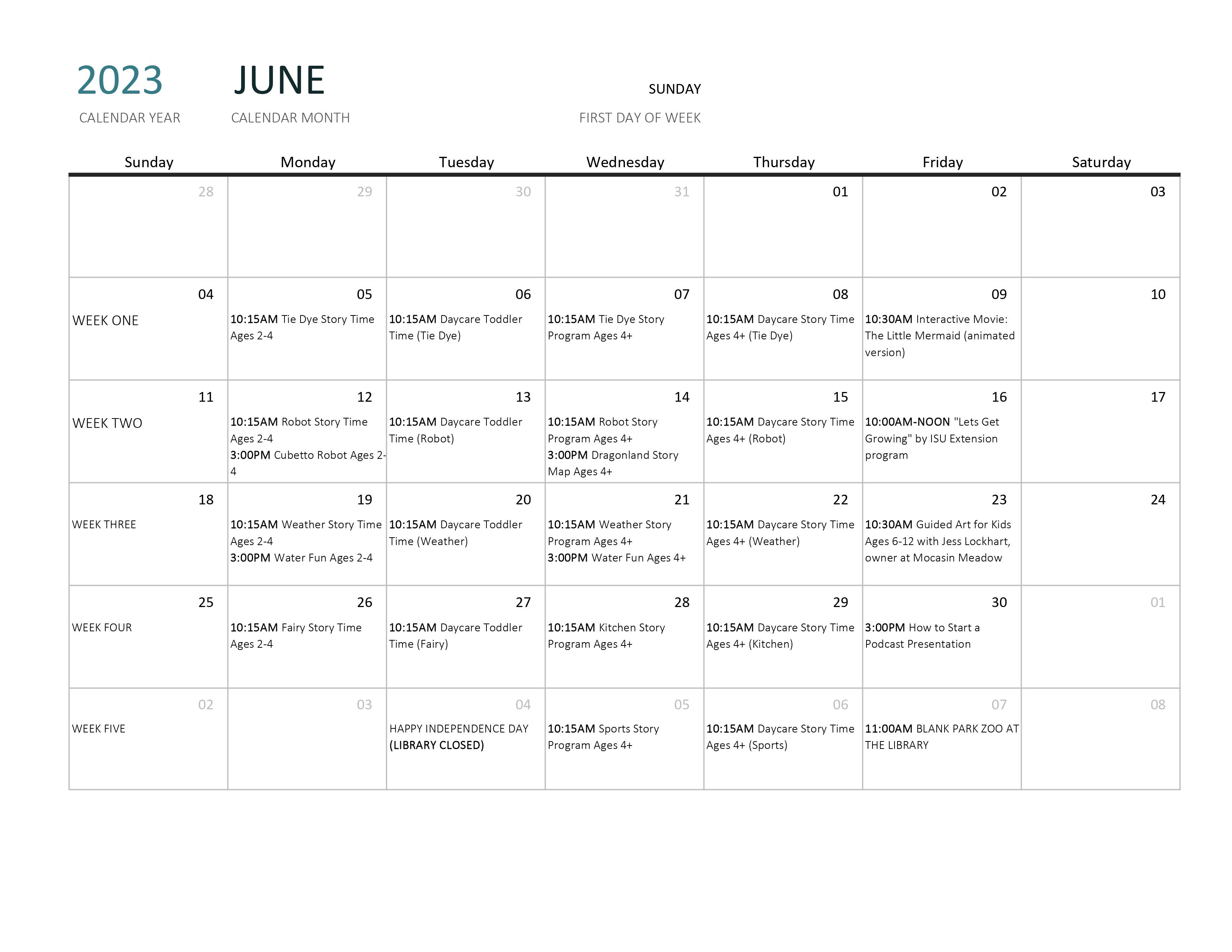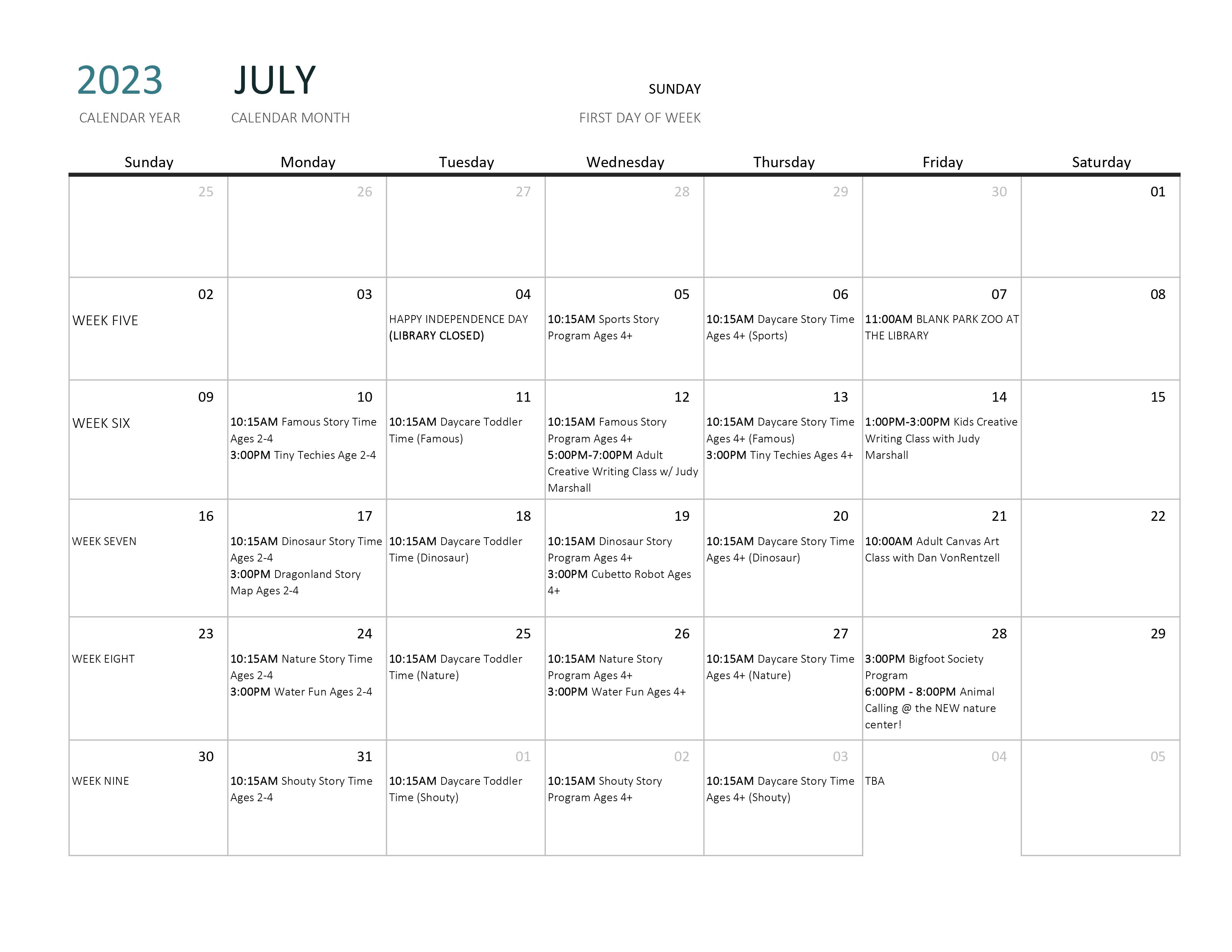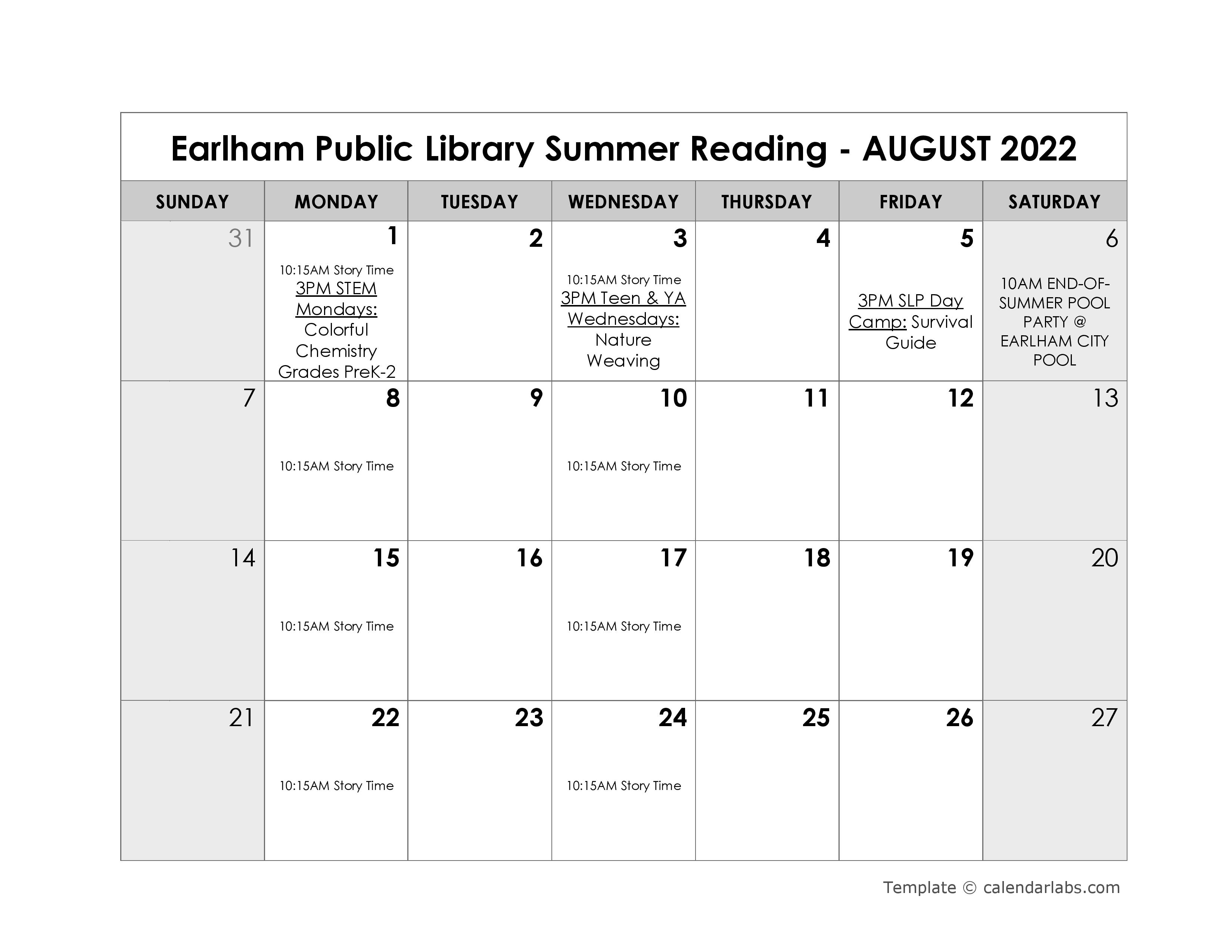 Friday Programming
6/9/23 Interactive Movie: The Little Mermaid (Family Friendly) -
Come watch the 1989 animated version of The Little Mermaid (Sing-Along Version) with fun directions and actions to do at certain parts of the movie! Bonus: Free plastic Dinglehoppers!
6/16/23 "Lets Get Growing" by ISU Extension (Elementary Ages) -
Pre-K through 3rd Graders- Join Madison County Extension at the Earlham Library for Let's Get Growing. - https://forms.gle/VWFoU31zPJ1kg7Cx8
Attendees will talk about parts of plants and how to care for them, as well as leave with their own project so they can continue to watch the growth over time!
6/23/23 Guided Art for Kids with Jess Lockhart of Mocasin Meadow (Ages 6-12) -
We will 'Find Our Voice' through creative art led by a local artist Jess Lockhart with Moccasin Meadow She will be helping us use pressed plants/flowers to create bookmarks & sun catchers!! 20 spots available, parents may need to help assist a bit 1030am-12pm.
6/30/23 How to Start A Podcast with Jeremiah Byron (Adult but Family Friendly) -
Have you ever wanted to start a podcast? Local podcaster Jeremiah Byron with Bigfoot Society will be here to give you an idea of how to start up and maybe give some tricks and tools of the trade!
7/7/23 Blank Park Zoo (Family Friendly) -
Come and see the zoo at your library! They'll bring 3-4 animals and teach you about their habitats!
7/14/23 Creative Writing Class with Judy Marshall (Elementary/Middle School Ages) -
Try out some creative writing exercises with a real local published author!
7/21/23 Guided Canvas Painting Class with Dan VonRentzell (Adult) -
Learn how to create a beautiful summer sunset painting step by step from local art teacher Dan VonRentzell! Don't worry about having any previous experience, he'll guide you through the steps and you'll soon have a beautiful masterpiece! Set aside a couple hours for this one.
7/28/23 Bigfoot Society Program (Family Friendly) -
Jeremiah Byron, host of the Bigfoot Society Podcast, will be here to tell us about all things Bigfoot! He knows sightings and tracking state and nationwide!
7/28/23 Animal Calling Program @ Madison Conservation Center (Family Friendly) -
A program in conjunction with the Winterset Public Library and Madison County Conservation. Details to come.